CORE 2062 Robotics Aims to Build on Previous Success
C.O.R.E 2062 is your school district's FRC team. But what does that mean? Find out here!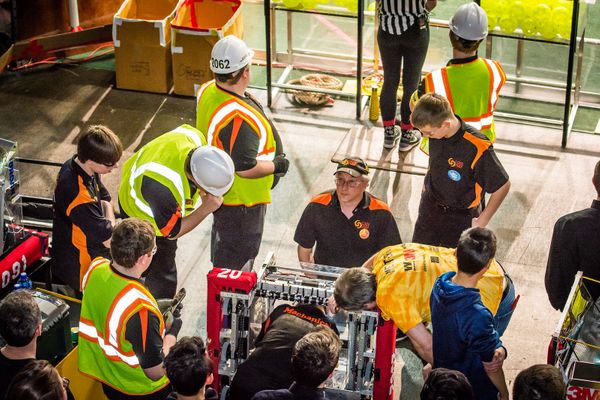 With 40+ regional awards, 12 years of competition, and 2 world championship appearances, your Waukesha School District's high school FRC team, C.O.R.E 2062, is one of the district's most successful competitive teams.
FRC, or FIRST Robotics Competition, is a global competition where teams set robots against each other in competition. No, it isn't Battlebots, but it's no small effort. The team runs on upwards of $35,000 every year, and is sponsored by large organizations such as Toshiba, GE Healthcare, and Milwaukee School of Engineering. Each year, there is a different challenge given to all teams on the first Saturday of January. From that point, they have only 6 weeks to design, build, and program a robot from scratch before competition season begins.
Last year's game was FIRST Steamworks (Watch the game animation here.) FIRST created FRC in 1992, and has continued running it and its offshoots, like FLL, also known as FIRST Lego League, since then. CORE's first competition last year was in Milwaukee at the Wisconsin Regional, where 50+ teams invaded the UW Panther arena for three days. The team's robot, which was named Aergia, was one of the fastest in the field, and could lift its entire 120 pound weight nearly 6 feet off the ground in under four seconds. Given those impressive stats, the team took the number one seed at the end of the 60 qualification matches, a first in CORE's 12 year history. Despite this, they lost to the overall winners in the semifinals, but still took home the Innovation in Controls Award nonetheless. Their second event was in La Crosse, where another 50+ teams attended the inaugural Seven Rivers Regional. CORE took third seed at the end of qualifying, and partnered up with the number one seed. The alliance wound up winning the regional, earning the team a banner that hangs with pride in the main stairwell at South. Along the way, the alliance also managed to set the regular season, penalty-free, World High Score. Once more, the team took home the Innovation in Controls Award.
Winning Seven Rivers earned them a spot in the St. Louis World Championship event, where nearly 400 teams from around the country and the world competed, spread across 6 different divisions. The champions of each division then headed into a round-robin style face off, with the top two chosen for the final showdown. CORE finished 16th in the Daly division and made it into divisional eliminations. In one of their matches, CORE even beat the eventual world champions themselves. Needless to say, their season was extremely successful. This success continued into the offseason, where the team competed in an offseason event in Rockford, IL, which ended up giving the team another win, with a record of 10 wins and 1 loss. In this upcoming season, they are trying to replicate and improve their skills and abilities, and hope that they can pull it off and make it to the championships again.
This year, the game is FIRST Power Up, and was announced globally on January 6. You can see the game animation here. The team has already begun thinking of what they want this year's robot to do, and the clock is ticking. They will once again be attending the Wisconsin Regional and Seven Rivers Regional in Milwaukee and La Crosse, respectively. If you want to know more about the team, and what they do, you can check them out at core2062.com, or follow them on Twitter, Facebook, Instagram, or Snapchat channels at @core2062.